Convenience
Our jet charter flights can operate from smaller airports, closer to your actual departure and destination points, reducing road time and offering shorter check-in times without the chaotic terminals of the largest airports. Private jet flights reduce the hassle.
Flexibility
Private jet flights allow you to control your own schedule. Giving you the ability to create your own timetable and change it as required, knowing that your aircraft and crew are waiting for you.
Comfort and Privacy
The opportunity to travel in comfort with the people you choose, conduct meetings, discuss business strategies, or simply relax in a stress-free environment. Cruising high above the weather private jet flights are designed to make the trip comfortable and relaxing. Chart-Air ensures all executive jet charter enquiries and private jet flights are dealt with in the strictest confidence.
Cost-Effectiveness
Private jet flights can save you money and time. When compared to the cost of scheduled business class or first class tickets and the wider choice of airports charter flights are always more convenient but often cheaper too.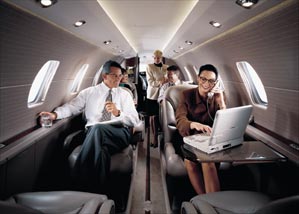 For further information on our private jet aircraft types, and the cost of private jet charter around the world, please contact us.
E-mail : sales@chart-air.co.uk