Private Helicopter Hire
Chart-Air's helicopter charter services and private helicopter hire provide a true door to door service, and are useful for shorter distance flights or when there is no fixed wing access. With prior permission, private property can be used, enabling you to get nearer to the final destination, and cutting down on road time. Many hotels and country restaurants now have helicopter landing areas, allowing for swift access and departure. These facilities are free for guests but there is a cost for others to use. Chart-Air Aviation provides private helicopter hire and air taxi charter throughout the UK and Europe, using helicopters based at many locations. We also provide helicopters for use as platforms for aerial photography or for lifting items weighing up to 3.5 tonnes into remote or inaccessible locations.
Flexibility
Its' versatility enables a helicopter to be used for many tasks, including pleasure flights, photographic and film work, weddings, flying to sporting events, offices, private property and hotels. Only a small area is required for landing and take-off, enabling them to fly into many places not suitable for fixed wing aircraft.
Convenience
Fly over the traffic queues and parking problems into major UK sporting events. We have provided helicopter charter and hire services for visitors to many events, particularly horse racing fixtures, football matches and motor racing events. Weddings, pleasure flights, air taxi services and birthday presents are also popular uses for private helicopter flights in the UK. Plus of course business travel, dramatically reducing time spent on the road and producing more time to spend actually doing business!
Helicopter Charter - FAQs
For more information on helicopter types and helicopter rental costs give us a call or drop us an e-mail with your requirements.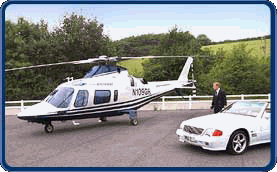 Agusta A109